BankiFi is a technology platform designed to make business banking better. We enable banks and financial institutions to provide a set of integrated services - accounting, invoicing and payments - designed around the processes your small business customers use to run their company. We equip banks to become customer centric, rather than product centric - helping to increase your revenues and reduce costs while allowing your business customers to thrive.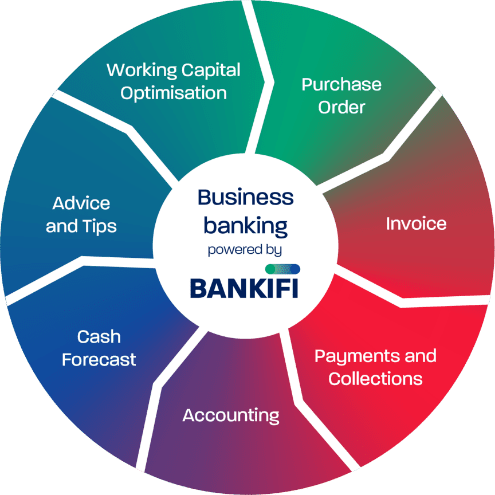 Equipping banks and financial institutions to take on challengers
Small businesses are seen as low-hanging fruit, having been underserved for too long. Fintechs, payment processors and alternative finance providers have already taken market share of several banking services, and payables and receivables will be the next area attacked - with deposits no doubt following. But by embedding banks within business workflows through simple-to-deploy financial tools, we can help you take on the challengers and become indispensable to your customers - protecting your position.

"My customers struggle with late payments"
BankiFi enables banks to automate collections for their customers

"My customers' 'order to cash' or accounts receivable process is disjointed"
The entire 'order to cash' process happens within the bank's digital channel

"My customers cannot accurately forecast their cash position"
BankiFi builds a live profile of your customers' cash positions

"My customers' 'procure to pay' or accounts payable process is fragmented"
The entire 'procure to pay' process is embedded within the bank's digital channel

"My customers spend significant time on matching and reconciliation"
BankiFi links bank accounts and accounting packages to automate this

"My customers complain online accounting packages are complex and expensive"
Bookkeeping and accounting can be made easy by linking to the package of the customer's choice

"My customers want to do their banking from the channel of their choice, not mine"
BankiFi replaces the siloed approach to a bank's channel strategy with an API-first approach

"My sole trader and micro businesses want to use their personal account to run their business"
BankiFi's solution for sole traders and micro businesses utilises open banking